Soya Keema Macaroni Bake
Soya Keema Macaroni Bake
Made with MTR Elbow Macaroni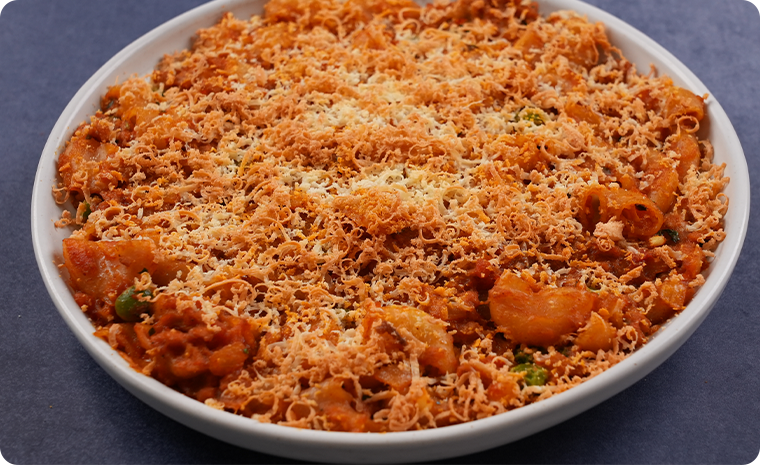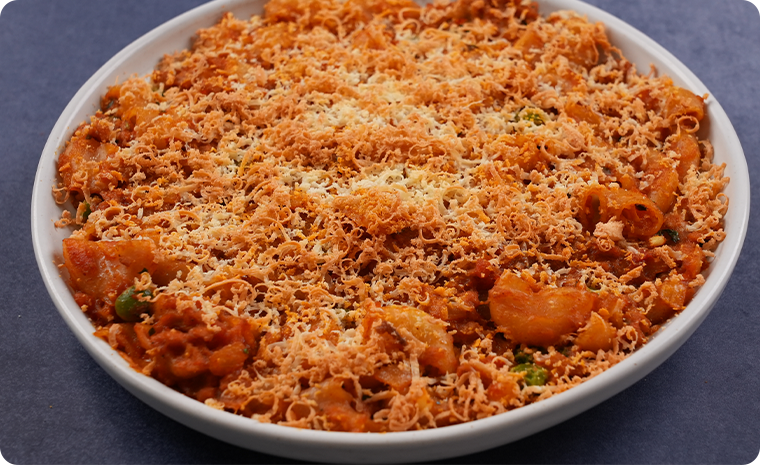 Prep Time 9 Mins

Cook Time 10 Mins

Serving 2 People

Ingredients
| | |
| --- | --- |
| Oil | 30ml |
| Black Cardamom | 1g |
| Bay Leaf | 0.5g |
| Ginger Garlic Paste | 15g |
| Onion | 50g |
| Green Chilli | 3g |
| Tomato | 100g |
| Sugar | 1g |
| MTR Byadgi Chilli Powder | 3g |
| MTR Coriander Powder | 2g |
| Jeera Powder | 1g |
| MTR Turmeric Powder | 0.5g |
| MTR Special Garam Masala | 2g |
| Kasuri Methi Leaves | 0.1g |
| Coriander Leaves | 3g |
| Salt | 5.5g |
| Soya Granules | 20g |
| MTR Elbow Macaroni (Cooked) | 100g |
| Green Peas | 50g |
| Water | 100ml |
| Grated Cheese | 20g |

Directions
Step 01 Soak soya granules in hot water for 30 minutes. Squeeze and keep aside.
Step 02 Heat oil in a pan, add bay leaf and black cardamom and fry well.
Step 03 Add chopped onion and green chilli. Sauté till brown.
Step 04 Add ginger garlic paste and sauté till the raw flavor goes off.
Step 05 Add chopped tomato and sauté till mushy.
Step 06 Add all spice powders and salt. Mix it well.
Step 07 Add soya granules and blanched green peas and mix well.
Step 08 Add water and cook till semi-thick consistency.
Step 09 Place the cooked macaroni on the plate and pour the curry over the macaroni.
Step 10 Grate the cheese over the soya keema. Bake it for 5 minutes and serve it hot.