Sevai Kharabath
Sevai Kharabath
Made with MTR Rice Sevai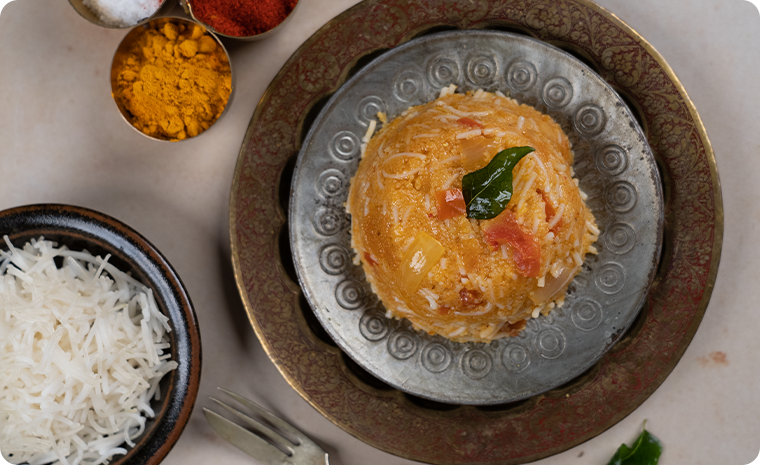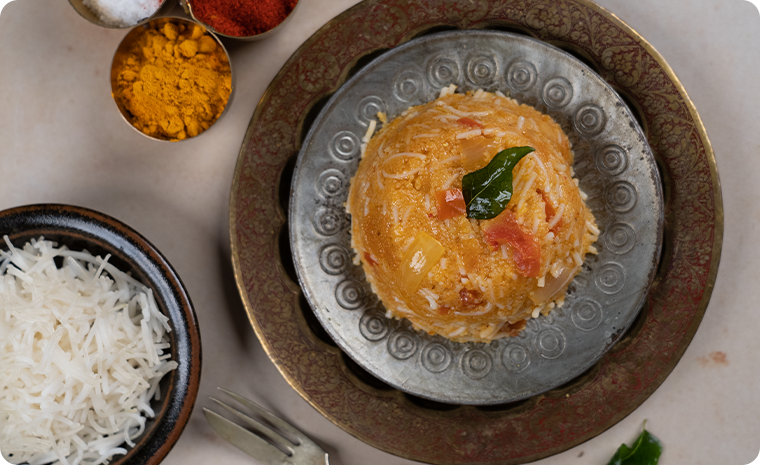 Prep Time 12 Mins

Cook Time 13 Mins

Serving 2 People

Ingredients
| | |
| --- | --- |
| Oil | 200ml |
| Mustard | 1g |
| Urad dal | 3g |
| Chana Dal | 5g |
| Cashewnut | 10g |
| Ginger | 4g |
| Green Chilli | 4g |
| Curry Leaves | 1g |
| Tomato | 80g |
| MTR Turmeric Powder | 0.3g |
| MTR Vangi Bhath Masala | 7.5g |
| Sugar | 1.5g |
| Salt | 5.5g |
| Coriander Leaves | 3g |
| Water | 450ml |
| Rava | 50g |
| MTR Rice Sevai | 50g |

Directions
Step 01 Heat oil in a pan, add mustard seed and fry till it crackles.
Step 02 Add urad dal, chana dal and cashew nut and fry until it becomes brown.
Step 03 Add ginger, green chilli, and curry leaves.
Step 04 Add chopped onion and sauté till brown.
Step 05 Add chopped tomatoes and sauté till mushy.
Step 06 Add MTR Vangi Bhath Masala and water.
Step 07 Once the water starts boiling, add MTR rice sevai and cook till it softens.
Step 08 Add roasted rava and cook well.
Step 09 Add coriander leaves and switch off the flame. Serve hot.